Here are different ways Dental Implants are used to replace missing teeth
Photos are from patients in our practice.
All on 4
The All on 4 uses four implants to secure the bridge in the upper or lower.  This procedure allows the temporary bridge to be placed in One Day.  Then, we place the final bridge 3-4 months later.  You never go without teeth.  This method is ideal for the patient that "doesn't have enough bone" or needs " sinus grafting" – There is usually enough bone to avoid the sinus grafting and save you money.
Single Tooth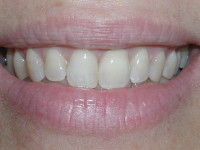 Single dental implants are standard of care now for replacing a single missing tooth instead of a traditional bridge where two good teeth have to be cut down.  For front teeth we place the implant and the temporary crown in one day, and make the permanent crown 3 months later.  The crown is cemented to an abutment that is either titanium (metal for back teeth) or zirconia (white for front teeth).
Overdenture
Overdentures snap in on top of 2 or 3 dental implants.  This is an economical way to hold dentures in place where they will stay put while you talk and chew.  These can be upgraded to a fixed bridge like an all on 4 by adding  2 or more implants.  Many patients upgrade after a couple of years.
Full Arch Implant Supported Bridge
Full Arch dental implant supported bridges are similar to the All on 4 except that they extend further to the back and replace more back teeth.  These cases usually require 6-8 implants.  The advantages are that they replace more teeth, have more implants for support in case one of the implants fails, and can be made of porcelain or zirconia.